News
9/06/2009
The final schedule of Media Forum screenings, lectures and events is published.
9/06/2009
The preliminary selection of works for the competition programme is finished. The list of twenty best works, according to the selection committee, has been published.
7/06/2009
Now you can see parts of video works from our programme's participants at Media Forum website.
18/05/2009
The final list of Jury 2009 is now announced.
12/05/2009
The information on the members of selection committee has been added.
10/05/2009
The admission of applications for this year competition programme is closed. The selection committee has set to work. The short-list is to be announced on June 10th.
X Media Forum — The official program of the 31 Moscow International Cinema Festival
20-24 June 2009
Media Forum 2009 Catalogue (PDF)

20.04.2010

Media Forum of the Moscow International Film Festival was nominated to the All-Russian Contemporary Visual Art Competition for awarding the prize Innovation in contemporary visual art.
Media Forum of the Moscow International Film Festival was nominated to the All-Russian Contemporary Visual Art Competition for awarding the prize Innovation in contemporary visual art. The contest was launched in 2005 by the Federal Agency for Culture and Cinematography and the National Centre for Contemporary Arts (NCCA)
In 2009 Media Forum - the most uncommon program at the Moscow cinema festival - celebrates its tenth anniversary. The most avant-garde film experiments, video art and performative multimedia art - multiscreen installation of Yang Fudong, video works of Eve Sussman and Jasper Just, Interactive performance of Ryoichi Kurokawa - were shown at the Media Forum. Media Forum has its own contest of video works involving artists from more than twenty countries and its own lecture programm, during which world headliners hold their master classes, round tables and club events.
Subject-matter of the festival 2009 is "New Imaginary: expanding the cinema bothers". Stressing the idea of syntesis of cinema and visual arts and new ways of creation of visual works, Media Forum always proves that cinematography is in fact much wider than is shown in audience halls. It may be interactive and multiscreen, it may develop a special space enviroment, which naturally includes a spectator, and movies themselves may last for days resembling classical paintings.
X Media Forum winners are now announced!
First prize is awarded to Liu Wei, China - Hopeless Land;
Special Jury Mention:
Anne Marte Overaa, Norway - Grey #1;
Manuel Saiz, Spain - The two teams team;
Boris Eldagsen, Germany - SPAM the musical;
Special Snob magazine prize is awarded to Ilya Korobkov, Russia - Museum.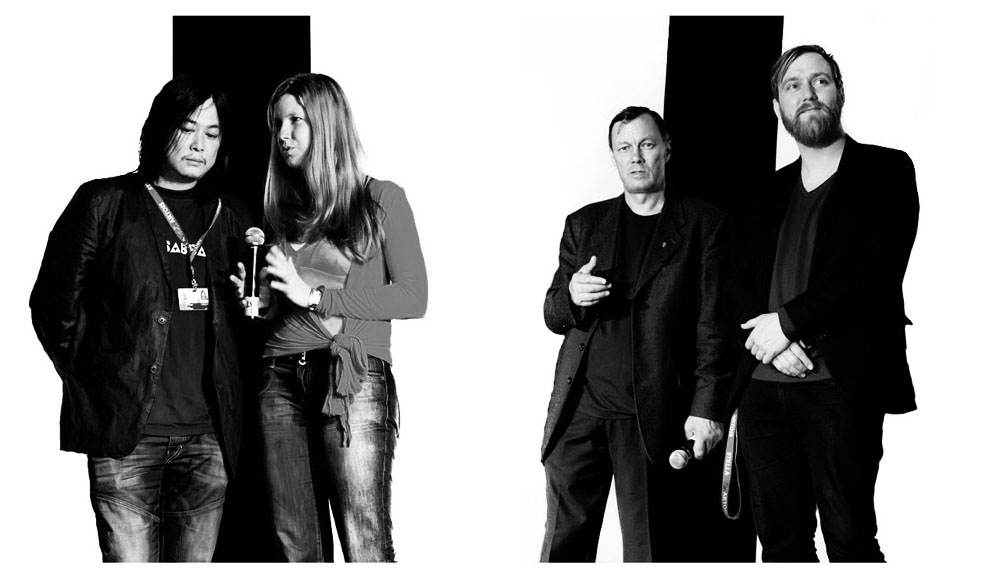 In 2009 Media Forum — the most uncommon program at the Moscow cinema festival — celebrates 10 years of its existence. It is here that the most avantgarde cinema experiments, unexpected video-art or performative multimedia art (like the last year VJ — show by Peter Greenway) find place. Media Forum holds it own videoworks competition, in which the artists from 5 continents and more than 20 countries take part; it has its own lecture program, within which the celebrities give master-classes for Moscow audience, round tables and club events.
Media Forum proves continuously that cinema in fact is much more wider notion than what we see in auditoriums. It may be interactive and polyscreen, it may create the special space environment, which naturally admits the viewer inside. The films themselves may last days, reminding us about classical picture - and all this is really worth seeing!
Moscow International Film Festival (MIFF) is held since 1959 and gradually it has become one of most respectable and prestigious film-forums in the world. In 1973 MIFF was registered by the International Federation of Film-producers associations (FIAPF) as an «A» class film festival alongside with those in Berlin, Cannes, San-Sebastian, Karlovy Vary and Venice.
This is the 10 year Media Forum is organized as part of the Moscow International Film Festival. The role of new media in audiovisual art and culture received due recognition and Media Forum was immediately introduced into the official program of MIFF.
Media Forum is the first event of such scale in Russia and it reveals a new vision of the world of new media culture and new screen technologies to the professionals, critics and public in general. The objective of Media Forum is to demonstrate the connection between traditional and modern branches of screen culture, the impact of technological innovations on visual arts.
The programme was started in 2000 at an initiative of Aleksei Isaev, a well-known Russian media artist, curator and theorist of the new media, who founded and directed the Moscow MediaArtLab Centre.
"Contemporary screen culture finds opportunities for the most rapid, clear and actual reflexion to changes or alterations in viewer mentality. It defines this experience as avant-garde and progressive. Newest tendencies of contemporary culture connected with new technologies make it possible for us to describe this part of culture as possessing own content and audience. The audience is attracted by communicational art model, which allows for the viewers' interactive participation in the art work dramatic composition" (Aleksei Isaev)
Media Forum as action is an exchange of ideas, infusion of new forces into contemporary culture and vice versa. It is an attempt to demonsrtate the logic of new thought and new communications. At the moment it is inside media culture that new ideas go through trial and approbation, ideas that cannot be realized in contemporary art context.
Organized by:

The cultural and art centre "MediaArtLab"
MediaFest

The sites:

Cinema Centre at Krasnaya Presnya

Drouzhinnikovskaya, 15
Phone (499) 255-96-92,
(495) 605-73-06

"Hudozhestvenny" cinema

Arbatskaya sq., 14
Phone (495) 291-55-98

Sсhusev State Museum of Architecture (MUAR)

Vozdvizhenka, 5/25
Phone (495) 291-21-09

Garage Center for Contemporary Culture

Obraztsova, 19а
Phone (495) 645-05-20

Ravenscourt galleries

Gagarinskiy lane., 35
Phone (495) 221-22-18